Last week, gold rose to a new short-term high and Bitcoin to a new all-time price peak. Gold is traditionally a safe-haven asset. In times of uncertainty and fear, gold tends to outperform other assets. Gold is also a traditional hedge against inflation that eats away at the value of many assets. Gold metal has a long history as a commodity and a means of exchange, a currency.
Over the course of history, gold has been around a lot longer than all of the currencies now traded in the foreign exchange market around the world. Gold is a commodity, and in the United States the Commodities Futures Trading Commission (CFTC) regulates the largest and most respected gold futures market in the world, the COMEX division of the Chicago Mercantile Exchange.
Meanwhile, Bitcoin is a cryptocurrency that is new on the financial scene. The Commodities Futures Trading Commission has defined Bitcoin as a commodity but it is much more than that. Bitcoin is a pan-global currency. Central banks, monetary authorities, or supranational financial institutions around the world do not control Bitcoin in any way, shape, or form.
So far in 2017, the prices of both gold and Bitcoin are moving higher. The bullish price action in these two assets could be telling us a lot about the value of paper money these days as well as the future for the status quo of foreign exchange markets.
Gold takes off in December, again
After a sharp and painful correction that took gold from over $1345 on November 9 to lows of $1127.20 on the active month COMEX April futures contract on December 15, the yellow metal shifted back into bullish mode.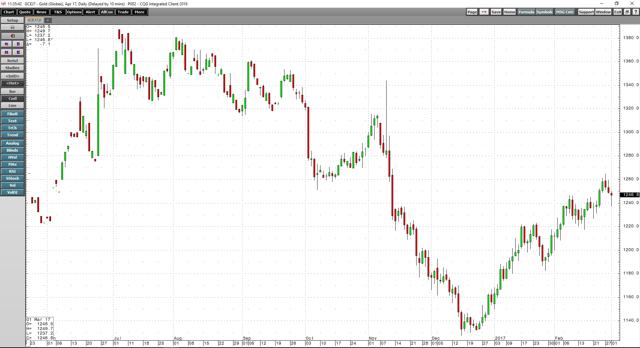 Source: http://seekingalpha.com/article/4051060-bitcoin-gold-saying-paper-money