Bengaluru (FKA Bangalore) in India is known as the Silicon Valley of the East and the Garden City of India. Salubrious climate and a highly educated workforce have beckoned people from all over the world to call it home.
It is estimated that one out of every three IBM and one out of every five Goldman Sachs employees work in India.
The knowledge capital of India, Bengaluru is the seat of prestigious research institutions like the Indian Institute of Science, Indian Institute of Astrophysics and the Raman Research Center among several others. Also based in the Garden City is The Indian Space Research Organization or commonly referred to as ISRO. ISRO recently launched the Mangalyaan mission to Mars at a cost of just 4.5 billion rupees — or about $74 million.
Compare this to NASA's own MAVEN Mars orbiter, which has a total mission cost of around $672 million.
Leading the country in information technology, Bengaluru had the vision to set up Electronics City in the 80s, one of the nation's largest electronic industrial development hubs. Bengaluru was also the first city to establish a biotech department and to come out with the country's first biotechnology policy. It is now home to more than 226 biotechnology companies, accounting for 60% of all biotech companies in India.
The International Tech Park Bangalore (ITPB) in Whitefield is the crown jewel in of India's giant strides towards leading the way in information technology. The 'World in a Park', as it is known, is a top line work-play environment and has over 30,000 tech professionals working for nearly a hundred companies in telecommunications, bio-informatics and software development.
Contrary to popular misconception, call centers are only one of several varied services offered by the city to its corporate clients. Dreamworks has an animation studio in Bengaluru. Animation work for the Puss in Boots and Madagascar series were done in the city. Infosys, a leading Bengaluru-based software services company had 798 clients across 30 countries in 2013. 62% of its revenue comes from North America.
The blockchain can solve many problems
The boom and development in Bengaluru has come at a cost. Beautiful and lush greenery in historical gardens like Cubbon Park and Lalbagh are becoming scarce. 30,000 new motor vehicles are being registered every month. Agricultural land has been converted to Special Economic Zones by vested interests. Infrastructure has not been able to keep up with the growth, not due to a lack of funds but due to their mismanagement. Pot hole filled roads and waste management are issues that have thousands of crores of rupees allocated during budget.
The city's residents do not see any change and are now asking for transparency in government spending. Citizen groups have begun asking for accountability and are demanding openness in political dealings. Residents have begun gravitating towards systems that are open, publicly verifiable and hopefully audited. Recently, chatter in social media has been actively used to spread the word about bitcoin, as many realize that the blockchain could be what the city needs to heal itself from infrastructure woes caused by its tech boom.
Bitcoin can stem corruption
Bengaluru has seen 42% of all real estate investments in India pour into it in 2013. The city is favored by High Net worth Individuals (HNI) and is preferred by Indian expats planning to settle back in India. The aggressive demand has led to land sharks fudging payment records and diverting real estate funds to illicit operations.
Each year, billions of taxable rupees on income from real estate sales fall between the cracks. Reported revenue is much lower than actual money that changes hands, mostly with cash. Many tech-savvy entrepreneurs are starting to see how bitcoin and its blockchain's ledger can be used to bring transparency to land deals sinking under corruption between the land sharks and officials.
The taxed income could then be meaningfully diverted to developmental projects which again could be verified on the blockchain. More citizens would be able to afford housing.
Unlike 2013 and 2014, this year Bitcoin has been covered positively in the news. The drug and money laundering coverage ended, making room for IBM's sponsored blockchain event, or the recent trip by Blockchain University to the Infosys campus. A change in perspective about the utility of bitcoin in fighting corruption has helped the community quite a bit.
Benson Samuel, founder of city based CoinSecure started the first meetup group in Bengaluru and now India's entire meetup bitcoin community has over 3,000 members. Thought the the Future of Money Bitcoin Conference held earlier in the year took place in Ahmedabad, there were more Bengaluru based bitcoin companies in attendance. The conference had a large turnout indicating an ever growing interest in bitcoin.
An estimated 120,000 plus people have downloaded bitcoin clients in the country.
Bengaluru based Unocoin and CoinSecure offer bitcoin wallets and trading services, both of these companies are keen to stay in business by enforcing strict KYC/AML.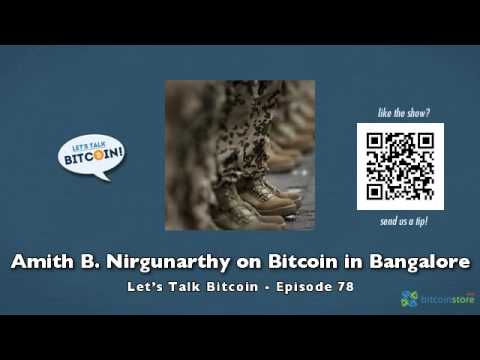 Bengaluru should not miss the boat
The Bengaluru information technology sector is an extremely innovative and industrious one. Given a free hand by the government and the right regulation, India's huge information technology workforce can be harnessed towards developing bitcoin fintech services that cater to existing clients. Its proven expertise in serving financial companies in back office trade settlement and accounting give the city a significant competitive advantage in the largely untapped Bitcoin ecosystem. This must be the reason why Infosys has set up their own blockchain research in India.
                                                   Unocoin brings bitcoin to bangalore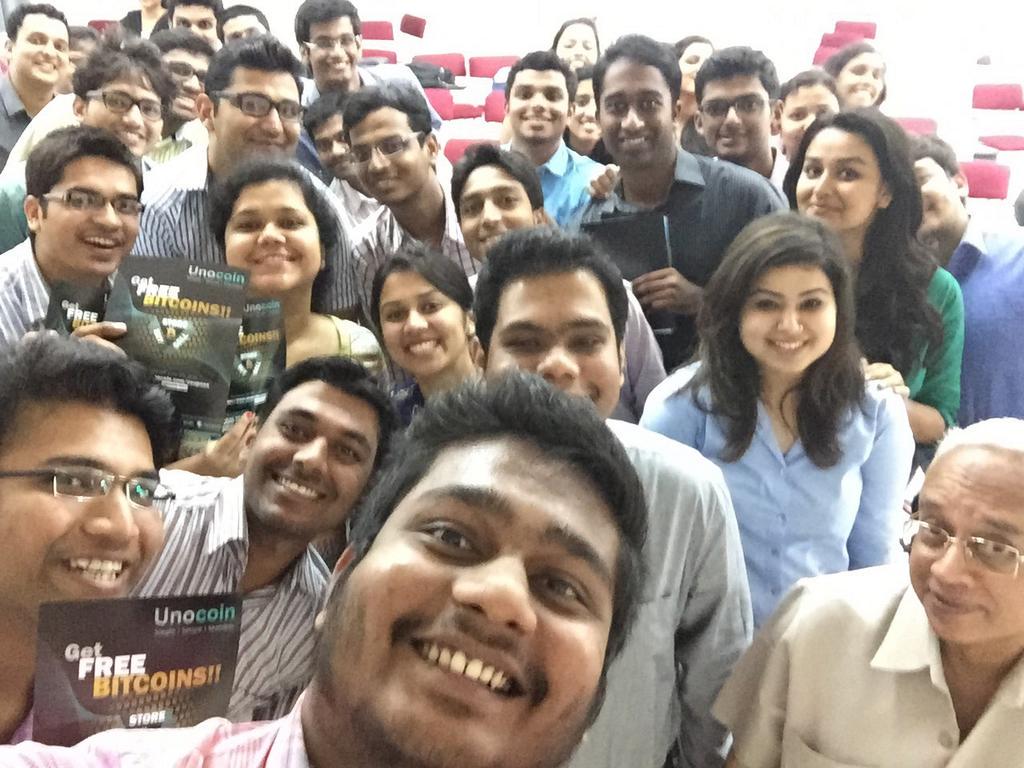 Source : https://ihb.io/2015-08-03/news/bitcoin-blooms-bengaluru-21628
Click on the bitcoin logo below to buy, use or accept bitcoin. Unocoin is India's most popular bitcoin wallet.
To read the bitcoin white paper, visit: https://bitcoin.org/bitcoin.pdf